click on one of the photos below to view a project slideshow.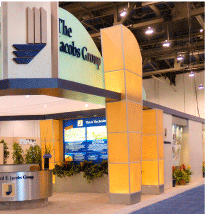 The Jacobs Group
Design by Walter Herip
Herip Design Associates www.heripdesign.com
Build by Ohio Displays Inc.
The Richard E. Jacobs Group needed a fully custom island exhibit that would project a highly stylized architectural feel while remaining easy to setup and tear down. The project was designed by the client's agency and brought to ODI to be developed and built.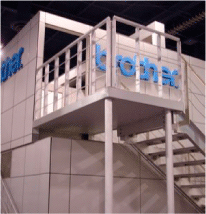 Brother International
Design & Build by
Ohio Displays Inc.
Brother International has been exhibiting with this property at the Consumer Electronics Show in Las Vegas for several years. Over the years the display has evolved into a sleeker, more contemporary exhibit. Owing to an ingenious original design and numerous creative additions, the booth has weathered many style changes.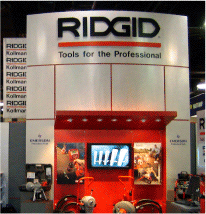 The Ridge Tool Company
Design & Build by
Ohio Displays Inc.
The Ridge Tool Company was in need of a property that could be easily reconfigured from a 10' inline showcase all the way to a 60' x 40' island booth. The new fully custom display components were designed and built in a contemporary industrial theme in fitting with The Ridge Tool Company's brand.